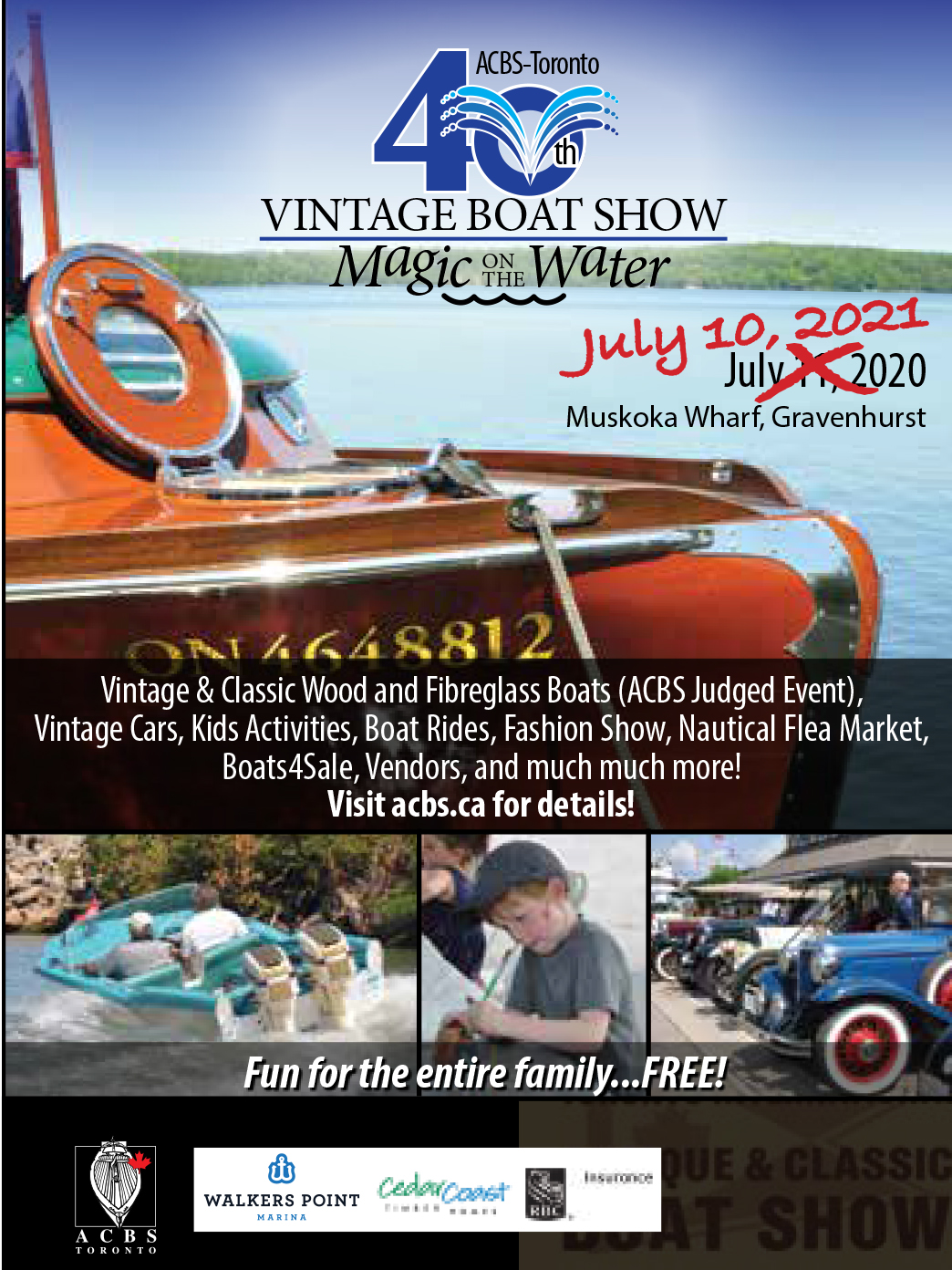 40th Vintage Boat Show to be Held Online
Do you recall where you were forty years ago this past July? Possibly at Harbourfront in Toronto for the inaugural ACBS-Toronto Antique Boat Show? It hard to believe the distance travelled and the accomplishments that ACBS-Toronto has made over the past thirty-nine years of shows to become one of the largest Antique, Vintage and Classic boat shows in North America. Truly a significant accomplishment.
From its humble beginnings in Toronto, to the Muskoka Wharf development in Gravenhurst, the Annual Vintage Boat Show has grown up in every respect. While we had hoped to return to a live show this Summer, however COVID-19 is have an impact on 2021 again.
The Board of Directors has determined that proceeding with this years traditional Vintage Boat Show at Muskoka Wharf, Gravenhurst would not be in the members or publics best interest. After exploring all avenues to move ahead with a 2021 and continuing to follow guidance from Provincial and local authorities the decision has been made to move forward with a virtual online boat show.
This year's 40th Vintage Boat Show will be launched Saturday, July 10th, 2021 to our members and the public. Members of ACBS-Toronto, our affiliated clubs and all vintage and classic boat owners will be invited to 'Display" their boat(s) online. We expect that this platform will attract a large variety of boats that should make the 40th Summer Boat Show one of the largest virtual vintage boat shows ever produced. With the Virtual Boat Show being available for an extended period, we forecast record numbers of visitors to the ACBS-Toronto Website.
This year's virtual show will launch to the public
on Saturday, July 10th, 2021
MEMBER AND PARTICIPANT INFORMATION
Details on how to register and participate in the 40th Vintage Virtual Boat Show, , displaying your boat and and telling its story will be available soon. We hope that you will participate in this special event, so we can continue to share the world of vintage and classic boats with the public and connect with your fellow members.