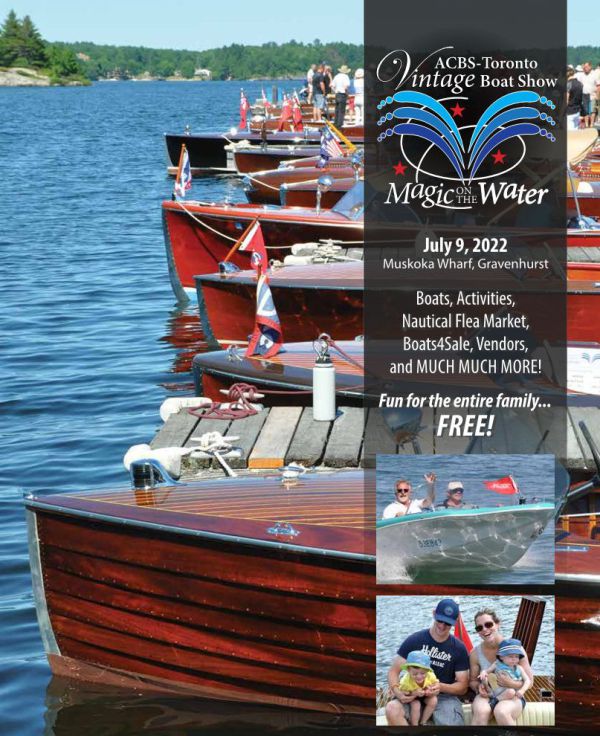 2022 VINTAGE BOAT SHOW
THE ANNUAL SUMMER VINTAGE BOAT SHOW RETURNS TO MUSKOKA!
This exciting boat show is one of the event highlights in Muskoka each summer.    
Some of the finest Vintage, Antique and Classic Boats ever designed, built and restored are brought by their owners from near and far for this incredible show.
Typically there are over 100 boat exhibitors in the water and on land. The range of craft is vast: from elegant mahogany Gentleman's Racers to dainty Dippy's to nimble Cedar Strips to flashy Fibreglass and while there are several that are over 100 years old, you'll also see some reproduction boats which honour their originals. 
Thousands venture to this FREE show each July to admire the boats but they also come for the food, Vendor's Alley and to search out the Nautical Flea Market for that elusive boat part or visit the Maple Leaf Antique Outboard Club for their display and sale, or a wander through the Boats4Sale area looking for their next project.
New this year is an exciting water ski show from Muskoka Extreme Water Ski Team featuring new and classic J-Crafts which will bring back some fond memories for many.
There is something for everyone at this FREE show.